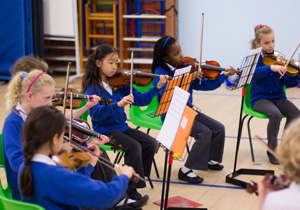 Address

Wroxham Gardens, Potters Bar, Herts. EN6 3DJ

Telephone

01707 643576

Email

Website
We are a Listening School and lead a Transformative Learning Alliance.
The Wroxham Transformative Learning Alliance was launched in September 2011. We bring together schools to share practice and learn from each other. We organise a variety of professional learning opportunities linked to our teaching school. We offer traditional courses at a range of school venues. Courses are open to both alliance and nonalliance members. We offer School Direct places for primary candidates. http://wroxhamtla.org.uk/
Here at The Wroxham School, we believe that the most effective school is one where individuality and difference are celebrated and everyone is valued, our school mission statement is … "Working together, aiming high".
We aim to:
● Provide the widest possible range of experiences to help children learn.
● Prepare our children as life-long learners by developing self-esteem, a positive attitude to learning and a sense of responsibility.
● Encourage our children to develop a growing awareness of other people's needs and achievements based on mutual respect and honesty.
● Provide an example that our children might use as a reference for positive behaviour.
We are committed to the principles of equal opportunity and inclusion.
We should like our school to be known for:
● A warm positive ethos where all children are happy to come to school.
● High academic standards.
● Teamwork.
● Creativity, sporting achievement and community involvement.
We aim for our children to:
● Be proud of their school.
● Feel happy and secure in school.
● Have high self esteem through recognising and developing their individual strengths.
● Know they are valued for themselves.
● Value and respect others and respect their individuality.
● Be aware of their role in the wider community.