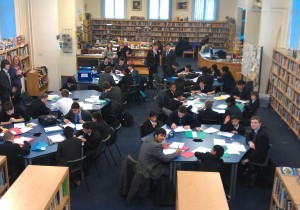 Address

Rickmansworth Road, Watford, Hertfordshire WD18 7JF

Telephone

01923 208900

Email

Website
The Watford Grammar Schools grew from the Free School, a charity school for 60 pupils founded by Dame Elizabeth Fuller in 1704, on ground next to the parish churchyard in the centre of Watford. The schools became separate foundations for boys and girls in 1881 and the boys' school moved to its present site in 1912.
As an outstanding school Watford Grammar School for Boys achieved Academy Status in 2010. The School has over 1250 students and draws on a wide catchment area giving the school community a rich variety of cultures. We are an all-ability School and we take pride in the high standards achieved by students in academic study, games, music, drama and many other activities.
At Watford Grammar School for Boys we are committed to continue to develop generations of young men who, when they leave school, are fully rounded individuals with a host of skills and experiences that equip them for the many opportunities and challenges they will face in life.
Our aims are as follows:
* To deliver a first-class academic education
* To provide the widest possible range of activities
* To be a centre of excellence for all students
* To allow every student to have a sense of personal worth
* To enjoy the fullest support of parents
* To be self-governing but without fees
The School ethos has, for generations, inspired intellectual curiosity, a competitive spirit, creative thinking, social responsibility and leadership. Most of all it has nurtured friendships and an affection for the School which is evidenced by our thriving and continuing association with many of our Old Boys.
Our ethos seeks to develop and not restrict individuality. We seek to nurture that individuality and a sense of of self worth by offering a breadth of subjects, and a range of opportunities ensuring that every student finds their own "niche".
A strong sense of community underpins everything we do - learning to respect each other's backgrounds, faiths and beliefs. We value commitment , we celebrate success and we offer an environment which not only leads to academic success but also self-discovery, self-expression and a sense of personal worth.